Hamilton Institute researchers Robert Shorten and Doug Leith have been awarded major new research funding by Science Foundation Ireland.
Speaking at the announcement Director-General of Science Foundation Ireland, Professor Mark Ferguson, said: "The PI projects for 2012, selected following a highly-competitive, peer-reviewed process, are investigating some of the most important issues facing humanity today".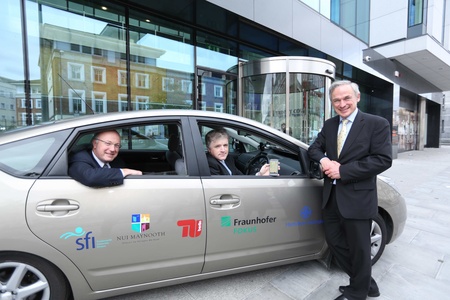 Prof. Robert Shorten (centre) project co-PI in the Hamilton Institute with Prof. Mark Ferguson (left) Director-General of Science Foundation Ireland and Minister Richard Bruton (standing)
Transport is a major contributor to climate change and pollution in our cities. Looking ahead, the need is to regulate the aggregate effect of vehicles, e.g. to avoid pollution peaks, manage traffic flow more efficiently while respecting an emissions budget, and regulate electric vehicle load on the energy network. This requires vehicles to be able to cooperate with each other. Much of the technology needed (GPS, smart sensors, city-wide wireless network connectivity etc) will soon be widely deployed and the political will for change increasingly exists. However, the lack of scalable, efficient algorithms for achieving cooperation and coordination, which is the primary technical focus of the new Hamilton Institute project, remains a key technology bottleneck to future developments.
See also: