The TwinLin project led by Prof. Robert Shorten of the Hamilton Institute featured at the Innovation Ireland Colloquium held in Berlin on April 25th as an exemplar of Irish-German research co-operation. The project is a partnership between the Hamilton Institute, Fraunhofer Fokus and TU Berlin studying smarter ways to use hybrid electric vehicles to manage pollution in cities. For further details on the TwinLin project, contact Prof. Robert Shorten or see the TwinLin project web page.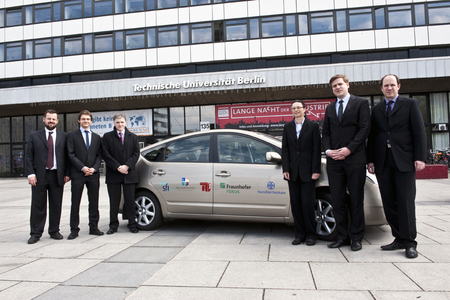 The TwinLin team: Arieh Schlote (HI), Thomas Hecker (Fraunhofer), Robert Shorten(HI), Astrid Bergman (TU Berlin), Florian Hauesler (Fraunhofer), Jens Zech (Fraunhofer)
See also SFI press release.