Peter Wellstead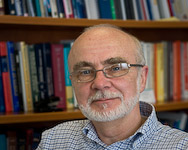 Peter Wellstead was born in 1944, in St Albans, England and was educated at Manland Secondary Modern School in nearby Harpenden. At the age of 16 he was apprenticed to Marconi Instruments Ltd, St Albans, initially as a craft apprentice and later as a student apprentice. During this time he studied part-time at St Albans College of Further Education and (with the assistance of Marconi Instruments and County Scholarships) studied by block-release for a degree in Electrical and Electronic Engineering at Hatfield College of Technology. After graduating with first class honours in 1967, he took a Masters Degree in Automatic Control at Warwick University, followed by a Ph D. in Engineering Science.
In 1970 he went to CERN as a Technical Fellow, moving to the University of Manchester Institute of Science and Technology (UMIST) in 1972 to work at the Control Systems Centre, eventually becoming Professor of Control Engineering. During this time he also served as Lucas Automotive Professor of Control Engineering and was Royal Society Industrial Fellow. In 2003 he changed from studying the control of engineering systems to living systems. He joined the Hamilton Institute in Ireland, initially as an E.T.S. Walton Fellow, and then as Science Foundation Ireland Research Professor of Systems Biology. He retired at the end of 2009 and now works as an adjunct professor and as an independent scientist. His research objective is to understand the causes of Parkinson's disease and finding preventative and protective strategies against the condition.
See the Hamilton Institute On-line publications tab for recent publications and books.