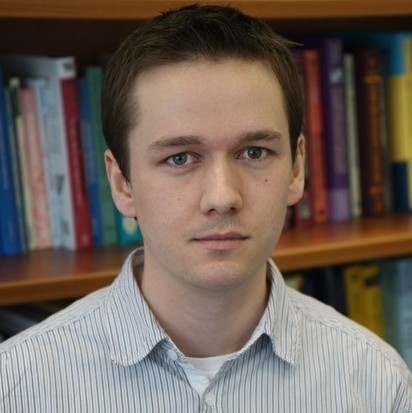 Hamilton Institute
National University of Ireland, Maynooth
Maynooth, Co. Kildare, Ireland

Email: adam[dot]hackett[at]nuim[dot]ie
Tel: +353 1 708 6799


About Me
I received my PhD in Applied Mathematics from the University of Limerick in January 2012. While there, I was a member of the Stochastic Dynamics and Complex Systems research group and an associate member of the Mathematics Applications Consortium for Science and Industry.
Currently, I am a posdoctoral research fellow at the Hamilton Institute, National University of Ireland, Maynooth. I work on the application of matrix and graph theory to exascale computing. This work is co-funded by the Irish Research Council and IBM Research Ireland under the Enterprise Partnership Scheme.
Here's my full resume.
Publications
Journal Papers



Conference Papers




Book Chapter

Gleeson, J.P., Hurd, T.R., Melnik, S., and Hackett, A. Systemic risk in banking networks without Monte Carlo simulation. Advances in Network Analysis and its Applications, Springer Mathematics in Industry series 18, 2013, pp. 27-56.

Presentations

Talks

Seeds for a heterogeneous interconnect. IPDPS 2013: IEEE International Parallel And Distributed Processing Symposium, May 20-24, 2013, Boston MA., USA.
Cascade dynamics on complex networks. Hamilton Institute seminar, March 14, 2012, Hamilton Institute, National University of Ireland, Maynooth, Co. Kildare, Ireland.
On contagion processes in complex networks. FMC2/MACSI colloquium, March 24, 2011, Michael Smurfit Business School, UCD, Dublin, Ireland.
The unreasonable effectiveness of tree-based theory for cascade dynamics on complex networks. ECCS 2010: European Conference on Complex Systems, Sept. 13-17, 2010, Lisbon, Portugal.
Percolation in a class of clustered random networks. Net-Works 2010: International Conference, June 8-10, Zaragoza, Spain.



Posters

Percolation in a class of clustered random networks. NetSci 2010: International School and Conference on Network Science, May 10-14, 2010, Boston, MA., USA.
The role of high degree nodes in global cascades on random networks. NetSci 2009: International Workshop on Network Science, June 29-July 03, 20 09, Venice, Italy.

Links

Profiles