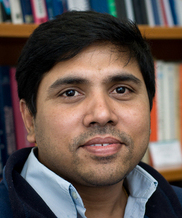 Dr Venkataramana Badarla

Contact information

E-mail: badarla dot venkataramana at nuim dot ie Phone: +353 1 708 6788 Fax: +353 1 708 6269 Mail: Hamilton Institute, NUI Maynooth, Co Kildare, Ireland.

About me

I received B. Tech. degree in Computer Science and Engineering from Nagarjuna University, India, in 1995 and the M.E. degree in Systems and Information from Birla Institute of Technology and Science (BITS), Pilani, India, in 1997. Between 1997-02, I worked as a software engineer (Novell IDC, Bangalore, 1996-97) and a faculty member (Sri Venkateswara College of Engineering, Chennai, India 1997-2000 and KDU College, Penang Campus, Malaysia 2000-2002).
I worked on my PhD between 2002-07 under the supervision of Prof. C. Siva Ram Murthy of Department of Computer Science and Engineering at the Indian Institute of Technology (IIT) Madras, India, and received my PhD degree in the 45th convocation of IIT Madras in July 2008. From August 2006 to May 2007, I worked as project officer at IIT, Madras, India. Since May 2007 I am working as a research fellow at the Hamilton Institute, National University of Ireland Maynooth, Ireland.

Research Interests

Transport, Network, MAC layes issues in Wireless ad-hoc, mesh, sensor networks. Also interested in the issues such as, Designing of an autonomous/self-organising wireless networking system, Techniques for implementing reconfigurable MAC-layer, Techniques for implementing a prototype cognitive radio network, Deployment aspects of IPv6, and Issues related to WiMAX.

Research Publications
Technical skills
Languages : C, C++, and Java
Systems Programming : Linux Kernel Module Development, Click Router Modular Architecture, MadWifi Device Driver, Netfilter Architecture
Scripts : Matlab, PERL, AWK, Shell, HTML, and PHP
Database Technologies : SQL, MySQL, and PostgreSQL
Network simulator: GloMoSim and NS2
Software Development
Implementation of ideas related to the project titled A Next Generation Hybrid Wireless Mesh Networking Infrastructure for Rural Communities as a Linux Kernel Module, using netfilter framework. This was a team work, consisting of B.S. Manoj, Venkataramana Badarla, Devesh Agrawal, Pradeep Kumar, Dileep Kumar Reddy, Vinay Kumar Reddy, and Manjush (looked into NS2 implementation). Home page: Meghadoot (Please send an email for source code)
Development of Linux Kernel Module using netfilter framework to monitor the number of active connections (i.e., number of flows) and according update the IEEE 802.11e EDCA parameters such as Transmission Opportunity (TXOP), CWMIN etc., Download LKM works in Linux versions 2.6.21.1 (or Lower)
Implementation of Dynamic Routing Protocol and its variants (i.e., Back-pressure Routing) as a Linux Kernel Module, using Click Router modular architecture. (Please send me an email for source code)
Development of Multi-Queue architecture and rate-based scheduler as a Linux Kernel Module, using Click Router modular architecture. Download LKM works in Linux version 2.6.24.7 and click modular router release 1.7.0
Development of online Publication Management System using server-side scripting language, PHP and database sever, PostgreSQL/MySQL
Professional Activites
Panel member of Technopreneur Promotion Programme (TePP), which was launched by Department of Scientific & Industrial Research, Ministry of Science and Technology & Ministry of Earth Sciences (MoST), India.
Reviewer Globecom 2007, Globecom 2008, VTC 2008 and VTC 2009 Spring, ISWCS 2007, WoWMoM 2010.
Reviewer Elsevier Computer Networks Journal
Reviewer Eurasip Journal on Wireless Communications and Networking
Reviewer IEEE JSAC
Reviewer Springer Wireless Networks Journal
Reviewer Elsevier Journal of Parallel and Distributed Computing
TPC member
Local arrangements and Publicity chair: 3rd Intl. Workshop on Next Generation Wireless Networks WONGEN 2008.
Organizing committee member, 11th IEEE VLSI Design'98 04th -07th Jan 1998, Chennai, India.